Flange
---
The usual process of flange production, especially in large sizes, includes cutting and welding of several pieces. This method requires very high precision and long welding time and due to the stress on the flange, the quality is effectively reduced. The flange produced by this method has a very low quality but acceptable appearance. After a short period of time, its poor quality and inefficiency will appear.
In order to solve this important problem, Aka Industrial Group has developed a Hot-Roll Machine. Using this machine, the part is rolled when it is hot after several heat treatments and it is manufactured in form of one seamless piece. Additionally, in this method, Molecular structure is preserved and the produced flange has high quality as the result.
Plain, slip-on and welding neck flanges are manufactured in accordance with DIN, ASTM, AWWA and ANSI standards from 80 mm to 3000 mm by the hot rolling and forging methods. Epoxy coating using the electrostatic method is applied on all parts of AKA products.
---
---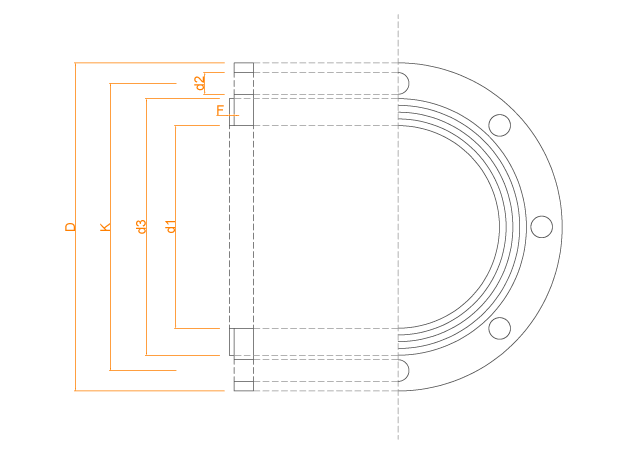 DIN 2501
Pipe
PN6
PN10
Flange
Raised Face
Flange
Raised Face
DN
Outside Diameter
d1
Diameter
D
Pitch Circle
K
Hole Diameter
d2
Holes
N
Diameter
d3
Height
F
Diameter
D
Pitch Circle
K
Hole Diameter
d2
Holes
N
Diameter
d3
Height
F
80
89
190
150
18
4
128
2
200
160
18
8
138
2
100
114
210
170
18
4
148
2
220
180
18
8
158
2
125
140
240
200
18
8
178
2
250
210
18
8
188
2
150
168
265
225
18
8
202
2
285
240
22
8
212
2
200
219
320
280
18
8
258
2
340
295
22
8
268
2
250
273
375
335
18
12
312
2
395
350
22
12
320
2
300
324
440
395
22
12
365
2
445
400
22
12
370
2
350
355
490
445
22
12
415
2
505
460
22
16
430
2
400
406
540
495
22
16
465
2
565
515
26
16
482
2
500
508
645
600
22
20
570
2
670
620
26
20
585
2
600
610
755
705
26
20
670
2
780
725
30
20
685
2
700
711
860
810
26
24
775
3
895
840
30
24
800
3
800
813
975
920
30
24
880
3
1015
950
33
24
905
3
900
914
1075
1020
30
24
980
4
1115
1050
33
28
1005
3
1000
1016
1175
1120
30
28
1080
4
1230
1160
36
28
1110
4
1200
1220
1405
1340
33
32
1295
4
1455
1380
39
32
1330
4
1400
1420
1630
1560
36
36
1510
4
1675
1590
42
36
1535
4
1600
1620
1830
1760
36
40
1710
5
1915
1820
48
40
1760
5
1800
1820
2045
1970
39
44
1920
5
2115
2020
48
44
1960
5
2000
2020
2265
2180
42
48
2125
5
2325
2230
48
48
2170
5
2200
2220
2475
2390
42
52
2335
5
2550
2440
56
52
2370
5
2400
2420
2685
2600
42
56
2545
5
2760
2650
56
56
2570
5
2600
2620
2905
2810
48
60
2665
6
2960
2850
56
60
2680
6
2800
2820
3115
3200
48
64
2865
6
3180
3070
56
64
2882
6
3000
3020
3315
3220
48
68
3068
6
3405
3290
62
68
3085
6
 
 
 
 
 
 
 
 
 
 
 
 
 
 
 
 
 
 
 
 
 
 
 
 
 
 
Unit: mm
DIN 2501
Pipe
PN16
PN25
Flange
Raised Face
Flange
Raised Face
DN
Outside Diameter
Diameter
Pitch Circle
Hole Diameter
Holes
Diameter
Height
Diameter
Pitch Circle
Hole Diameter
Holes
Diameter
Height
d1
D
K
d2
N
d3
F
D
K
d2
N
d3
F
80
89
200
150
18
8
138
2
200
160
18
8
138
2
100
114
220
170
18
8
158
2
235
190
22
8
162
2
125
140
250
200
18
8
188
2
270
220
26
8
188
2
150
168
285
225
22
8
212
2
300
250
26
8
218
2
200
219
340
280
22
12
268
2
360
310
26
12
278
2
250
273
405
335
26
12
320
2
425
370
30
12
335
2
300
324
460
395
26
12
378
2
485
430
30
16
395
2
350
355
520
445
26
16
438
3
555
490
33
16
450
2
400
406
580
495
30
16
490
3
620
550
36
16
505
2
500
508
715
600
33
20
610
3
730
660
36
20
615
2
600
610
840
705
36
20
725
3
845
770
39
20
720
2
700
711
910
810
36
24
795
3
960
875
42
24
820
3
800
812
1025
920
39
24
900
3
1085
990
48
24
930
3
900
914
1125
1020
39
28
1000
4
1185
1090
48
28
1030
3
1000
1016
1255
1120
42
28
1115
4
1320
1210
56
28
1140
4
1200
1220
1485
1340
48
32
1330
4
1530
1420
56
32
1350
4
1400
1422
1685
1560
48
36
1530
4
1755
1640
62
36
1560
4
1600
1626
1930
1760
56
40
1750
5
1975
1860
62
40
1780
5
1800
1829
2130
1970
56
44
1950
5
2195
2070
70
44
1985
5
2000
2032
2345
2180
62
48
2150
5
2425
2300
70
48
2210
5
2200
2235
2555
2390
62
52
2360
5
-
-
-
-
-
-
 
 
 
 
 
 
 
 
 
 
 
 
 
 
 
 
 
 
 
 
 
 
 
 
 
 
Unit: mm
DIN 2501
Pipe
PN40
PN64
Flange
Raised Face
Flange
Raised Face
DN
Outside Diameter
Diameter
Pitch Circle
Hole Diameter
Holes
Height
Diameter
Pitch Circle
Hole Diameter
Holes
Height
d1
D
K
d2
N
F
D
K
d2
N
F
80
89
200
160
18
8
2
215
170
22
8
2
100
114
235
180
22
8
2
250
200
26
8
2
125
140
270
220
26
8
2
295
240
30
8
2
150
168
300
250
26
8
2
345
280
33
8
2
200
219
375
320
30
12
2
415
345
36
12
2
250
273
450
385
33
12
2
470
400
36
12
2
300
324
515
450
33
16
2
530
460
36
16
2
350
355
580
510
36
16
2
600
525
39
16
2
400
406
660
585
39
16
2
670
585
42
16
2
500
508
755
670
42
20
2
800
705
48
20
2
600
610
890
795
48
20
2
930
820
56
20
2
700
711
995
900
48
24
3
1045
935
56
24
3
800
812
1140
1030
56
24
3
1165
1050
62
24
3
900
914
1250
1140
56
28
3
1285
1170
62
28
3
1000
1016
1360
1250
56
28
4
1415
1290
70
28
4
1200
1220
1575
1460
62
32
4
1665
1530
78
32
4
1400
1422
1795
1680
62
36
4
-
-
-
-
-
1600
1626
2025
1900
70
40
5
-
-
-
-
-
 
 
 
 
 
 
 
 
 
 
 
 
 
 
 
 
 
 
 
 
 
 
Unit: mm